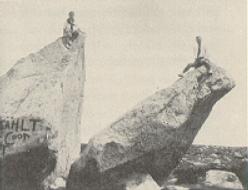 Whale's Jaw, Dogtown, 1922. Dr. Joseph Garland, the writer's father-to-be, is on the jaw, his soon-to-be Aunt Betty on the snout.
By far the greater part of this uninhabited midland of over five square miles is in Gloucester, absolutely bedeviled with grown-over pasture, rocks, and swamps stagnating in pockets of the ledge. "This being the last place created," goes an old saying, "all the rocks not needed in the rest of the earth were dumped here."
What on earth, then, induced some sixty or so families to build homes up here on the parallelogram of moor that extends about a mile east of Riverdale village, called by this odd name of Dogtown?
Its foremost student, the late Charles E. Mann, believed that the entire area was as empty of human life as it is today until 1719, when a distribution of the town's open land made lots here available to every male over twenty-one, many the sons of settlers. A map of 1741 shows that twenty-five famlies, among them some of Gloucester's leading, had moved up. Mann suggests simple reasons: population explosion and proximity to the center of town, which was then the Green.
After the Revolution the revival of fishing and Gloucester's entry into foreign commerce quickened the shift of people toward the harbor. The houses of Dogtown not retained by widows of men missing in the war passed into the hands of the poorest class. Dogtown declined into rural slumdom, way up back out of sight and sound, peopled by a dwindling band of half-starved characters romanticized by poets and writers of a later generation as rustic curiosities. The last of them was taken off to the poorhouse in 1830.
Chroniclers and historians preferred to overlook Gloucester's ghetto, and by the time Mann took it up, no one was left to tell the tale. The name has been commonly attributed to the dogs supposedly kept by the poor women to protect themselves against pirates and ruffians while their men were off to the Revolution.
Dogtown Road
It's not like the old times, when the grazers kept it clipped; this was all low growth and boulders, and you got your bearings by climbing a rock and looking around. Today, few are the knolls that haven't gone to brush. Dogtown is a maze, fascinating but inscrutably challenging to the sense of direction.
Pack a picnic, a jacket in case of a shower or wind shift, strong walking shoes, mosquito dope in summer, and something to pick blueberries into if they're ripe. Tell somebody your plans. Don't go alone. Wear bright clothing in the hunting season (between October and March). And bring a compass and the Dogtown Common Trail Map published by the Dogtown Advisory Committee.